In this featured case study, we will delve into how Times Union developed a comprehensive digital marketing campaign for The University at Albany's Weekend MBA Program. The campaign sought to reach new prospective students and drive enrollment for UAlbany's Weekend MBA program by leveraging audience targeting, sponsored content, and social media.

Business Challenge
The University at Albany Weekend MBA program provides busy executives a convenient way to earn their degree through a rich experience of learning and collaboration. However, it was clear after a two-year dip in enrollment that their message and marketing approach were not resonating with prospective students. Director Don Purdy realized they needed to overhaul their strategy to connect with the new generation of executives who have more online education options and a greater focus on work/life balance.
Campaign Strategy
Times Union developed a strategy to increase overall awareness of the program and drive measurable enrollment growth. The first step was infusing real-life alumni stories into new messaging, using video testimonials and educational content. The next step was to implement a multi-channel lead program, generating qualified candidates and cultivating them with ongoing email communication. All campaign assets incorporated a prominent call-to-action and tracking to constantly optimize performance.
Campaign Elements
Display Advertising
A newly designed set of display ads featuring successful alumni was featured on timesunion.com to drive attendance at quarterly information sessions essential for recruiting top candidates.
Native Advertising
Times Union crafted editorial-style content sponsored by the Weekend MBA to educate candidates on the real-world benefits of an MBA degree. Video testimonials of the faculty reinforced the program's impact on accelerating career development.
Email Marketing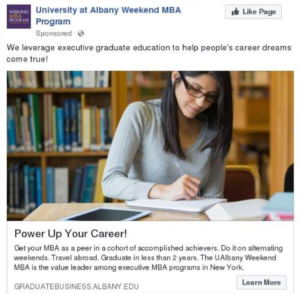 Recurring email messages with compelling program benefits were delivered to prospective students to optimize attendance at information sessions. These emails were triggered, sequenced and tracked by integrating the campaign's sign-up paths with the Weekend MBA's CRM system.
Social Media Marketing
Sponsored ads were highly targeted to bring the right candidates to Weekend MBA's social media experience. Candidates were able to explore the day in the life of actual students – from interactive instruction by top professors to an incredible international trip to learn from foreign leaders.
Testimonial
"Times Union came to the table with outstanding client service and campaign management. The application growth they delivered in such a dynamic environment was well beyond our expectations."
Don Purdy | Program Director