As the cannabis industry continues to grow by the day, many companies within the vertical are searching for ways in which to scale their business through marketing and advertising initiatives. However, as cannabis remains federally illegal, the effort to market businesses and products gets complicated – to put it mildly. However, as efforts are being made to end the federal prohibition on cannabis, marketing for the cannabis industry is likely to change. As such, companies must remain vigilant on what can and can't be done to grow market share and increase revenue in their target market(s).
In the meantime, we've outlined a few "can dos" and "don't dos" of cannabis marketing to help your organization advertise efficiently, effectively and without legal roadblocks and headaches. Check them out below.
The Don't Dos
According to Statista's latest report on advertising revenue, Google remains the leader in digital ad selling companies with Instagram placing second and Facebook placing third. In 2022, Google is projected to have $168B in ad revenue, Instagram is projected to have roughly $78B in US dollar ad revenue and Facebook is projected to have $58B in ad revenue. Impressive, if we do say so ourselves.
Unfortunately for cannabis organizations, Facebook and Instagram currently have strict advertising policies in place that block the direct promotion of cannabis in ads. According to Meta's policy, ads "must not promote the sale or use of illicit or recreational drugs, or other unsafe substances, products or supplements, as determined by Meta in its sole discretion."
It doesn't get much better on the digital ad leader's front. Google also does not permit ads that promote the use or the sale of cannabis or any educational content about the product. According to Google's advertising policies, ads 'for substances that alter mental state for the purpose of recreation or otherwise induce "highs"' and ads for "products or services marketed as facilitating recreational drug use" and ads for "instructional content about producing, purchasing, or using recreational drugs" are all not allowed.
For companies within the cannabis vertical, finding alternative advertising options can be tricky business. However, there are a few marketing avenues that organizations can take that accomplish both direct-to-consumer marketing and overall brand marketing to promote a business and its product(s).
The Dos
Display Advertising Through a Publisher
Hearst believes that with clear market demand and more states approving legalization, it is important to invest in quality, reputable marketing tactics. As such, the Times Union has developed a section devoted to stories and insights into the cannabis industry in the Capital Region and New York State.
For cannabis brands, purchasing ad space near such content is a great way to both align your organization with an established, respected brand and also capture the attention of consumers and readers who have an interest in the topic.
For organizations looking to advertise through a reputable publisher, but on a regional or national level, the Times Union Media Group is able to tap into the power of Hearst. The breadth and depth of our first-party data allows us to target high-value, educated and engaged audiences on numerous platforms. Currently, Hearst Audience Solutions & Hearst Digital Magazines (with 25 online editions) garner 60MM monthly impressions for CBD and have about 16MM monthly users interested in recreational cannabis.
However, it doesn't stop there. Hearst's GreenState.com regularly publishes original content paired with cannabis coverage from across the U.S. The content is syndicated nationally through SEO and a network of Hearst Newspaper sites, including TimesUnion.com. Core sections of GreenState.com include:
Cannabis Explained
News
Lifestyle
Food
Travel
Law
Health
Money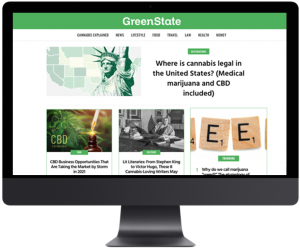 In addition, the following advertising opportunities are available on the site:
Homepage and Section Fronts 

Article Pages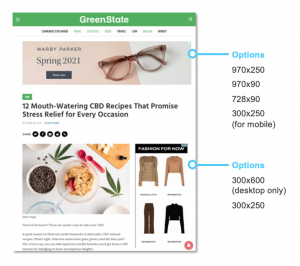 The Organic Avenue
There is also the organic avenue to drive website traffic, build brand awareness and generate higher quality leads. A key example of this is web and content development for SEO. Hearst and the Times Union understand and value the importance in leveraging such options to bolster reach.
As such, we have recently unveiled a new product for advertisers that creates long-form SEO-formatted stories based around keywords. Thousands of companies publish on news sites to drive organic traffic to their articles, featuring their products or their clients' products. As a publisher, we provide marketers or products with organic traffic, onto our sites, reducing dependence on Google AdWords and other SEM ads.
For cannabis companies limited in paid advertising opportunities on some of the leading ad platforms, such an option allows an organization to promote content on a popular website with strong traffic. Last month alone, TimesUnion.com was visited by more than 1.43 million unique visitors. For organizations, a correctly formatted story placed on an authoritative site (did we mention that TU.com's DA is 82?!), will get organic traffic. And, when formatted correctly, lots of it.
While the content is meant to be long and comprehensive, for cannabis brands, providing information in a clear, professional manner to consumers on a relatively new product is incredibly valuable. Although our clients are responsible for their stories, we do suggest reviewing the following helpful checklist to generate the most traffic as possible.
Does your Page Title have keywords?
Are keywords included in Page Description Tag?
Are keywords included in Header Tag, H2 Tag, H3 Tag, etc.?
Does your article summary have keywords?
Structured data tables may help acquire Featured Snippets or Google knowledge graph placements
Final Thoughts
As the cannabis industry continues to grow, so too will advertising opportunities. To continue reaching consumers in new regions and markets, organizations must pivot efficiently to incorporate the most effective marketing channels into their larger growth campaigns.
We want to reiterate that sponsored cannabis and CBD content for SEO must be accurate and not misleading. All facts and claims must be substantiated with links, especially anything within the CBD arena. And, for best results, link to the sponsored content from your site or sites.
In addition, consider add-ons like retargeting pixels to serve banner ads to those who have engaged with your content. The Times Union and the Hearst network can assist in helping to run those display ads through our numerous owned and operated sites. Need some help getting started? Contact us today to learn more!
####