As of April 25, the New York Department of Labor has distributed $2.2B in unemployment benefits since the start of the novel coronavirus pandemic. The payout figure represents roughly 1.1M New York State residents who have filed for unemployment.
While New York remains on PAUSE tentatively until May 15, businesses deemed non-essential at the start of this Executive Order will inevitably reopen. As such, organizations that laid off employees out of financial necessity or to fulfill social distancing regulations will need to begin recruiting for position vacancies. When businesses reopen, companies must be prepared to hire quickly in order to secure qualified candidates. Attracting future employees involves a combination of top of the funnel recruiting (recruitment marketing) as much as it involves bottom of the funnel tactics (recruiting).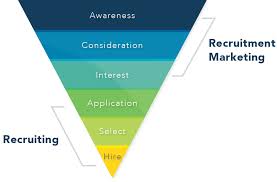 Having a rich online presence is the foundation for attracting talent for your organization. Such a presence does not, and should not, be cold and institutional, but rather warm and welcoming. There are many ways in which recruitment marketing incorporates a human element into the recruitment cycle from the very start. Through a defined profile of your company's ideal candidate, innovative usages of technology and the creative employment of advertising channels (no pun intended), acquiring top talent in a difficult climate will be an efficient task.
Creative Recruitment Marketing Strategies to Attract Top Talent
Your company's team is one of, if not the most valuable asset you have in achieving overall business goals. Possessing a talented team of employees provides companies with increased bandwidth to complete more projects and boost profits, but an elite team can provide new insights and perspectives to enact positive organizational changes. However, building an elite, revenue-generating team is no easy feat.
In order to save time and money in the recruitment process, clearly and concisely defining your company's ideal candidate is key. Not only will such a candidate set proper position expectations, but it will allow for the easy build of recruitment marketing campaigns to target and attract that highly sought-after individual. Creating content for your ideal candidate will improve ad engagement rates, improve the quality of applicants and new hires, lessen the time it takes to hire an ideal candidate, and decrease the likelihood of employee turnover. Need help creating an ideal candidate persona? Check out the below chart!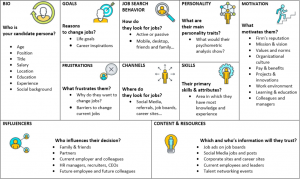 Furthermore, attracting a workforce in a post-COVID-19 shutdown presents its own unique challenges when creating an ideal persona and crafting recruitment messaging accordingly. Employers must communicate to perspective hires and current employees alike that significant thought and preparation has gone into returning employees to the worksite safely, in an organized fashion and with clear communication. Creating content that is relevant, captivating and authentic truly resonates with recruits. To ease some of the stress placed on businesses and employees and to streamline efforts, SHRM created a "COVID-19 Back to Work Checklist" that addresses 10 key issues employers must understand and address before fully reopening. Company culture is one of your best recruiters. By sharing your usage of such a checklist, you are building a brand that people want to work for.
Recruitment Marketing Channels to Attract Top Talent
Social Media
Nearly every business has some semblance of a social media presence as it is expected of by consumers. If you aren't on social media in some way, shape, or form, you may be losing out on business. But that's a topic of discussion for another day.
For recruitment marketing purposes, social media campaigns are a way in which companies can get creative to reach the best talent. Until the onset of the COVID-19 pandemic, the unemployment rate in the United States was a mere 3.7% in 2019, the lowest it had been in the last 29 years. As such, companies looking to fill vacancies had a difficult time attracting top talent and were pressured into becoming more innovative to reach passive candidates. However, there is little doubt that the COVID-19 pandemic has brought this positive trend to a halt and set back almost a decade of employment growth.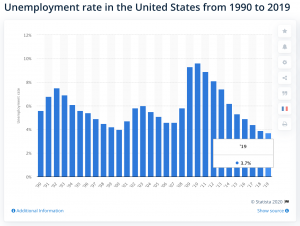 This unfortunate reality does not mean that recruitment marketing trends need to change. Social media has proved itself to useful in connecting recruiters directly with both active and passive job seekers by engaging with them through shared networks, skills or passions. In addition, by sharing content on social media that shows that your company has a great work environment, great benefits and work-life balance initiatives, you will organically attract talent that is already invested in your company and can help you grow from the inside.
Furthermore, studies conducted by Robert Half have shown that younger generations of workers, such as millennials, desire the same benefits as other generations – workplace and financial security. As such, you may find that your messaging and content on social media does not have to change drastically to resonate with different demographics, making the marketing medium an effective recruitment marketing platform.
Audience Geotargeting
Geotargeting, or geofencing, is the practice of delivering content to a consumer using geographic location information about that individual. In the realm of recruitment marketing, geotargeting allows brands to set a perimeter around a physical location to deliver ads to consumers within that locale. Geotargeting can pinpoint the locations where your ideal candidates are and deliver your brand directly to where they are already digitally engaged.
The benefits of such a recruitment marketing strategy include the ability to control the audience you are advertising to by setting detailed parameters and the ability to target such individuals for up to 30 days after they last visited a specified location. This strategy has been wildly successful in industries such as healthcare and transportation. For example, trucking companies frequently utilize geofencing strategies to target areas around truck stops to deliver recruitment marketing messaging to truck drivers who are notoriously in short supply. Learn about how audience geotargeting can be used to attract top talent for your company today.
Native Advertising
Native advertising is the use of paid ads that match the look, feel and function of the media format in which they appear. The appeal of native ads and the key to their success is that they look like part of the editorial flow of the page and are non-disruptive. They also are to run on desktops, mobile devices, tablets and are largely found within social media feeds – specifically Facebook, LinkedIn and Instagram.
In 2018, advertisers spent $35.4B on native ads. Why? Because they result in nine times higher click through rates than display ads, leading the viewer to interact with the product or brand being advertised. When utilizing native ads as part of your company's recruitment marketing strategy, it is crucial that you create engaging content that resonates with your ideal candidate. This method of recruitment marketing is highly effective for hiring companies to build overall brand awareness, increase engagement with a specific audience based on targeted demographics and interests and allow potential candidates to learn more about your company, the position, and more in an unobtrusive manner.
Print
Last, but not least, print remains one of the most useful advertising mediums for many business categories. The Times Union remains the area's number one news and information source. What's more is that the Times Union is also the area's dominant advertising platform. Nearly half of all advertising spend in this market goes to the Times Union, making it the dominant leader in that category. An ad in the Times Union newspaper and on timesunion.com can help your business reach 350,000 Capital Region residents.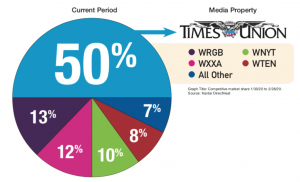 Recruitment Technology to Acquire Top Talent
Even prior to the start of COVID-19, online talent assessments, digital interviewing and the integration of new hires into an organization via an online platform was becoming a more widely accepted manner in which to conduct recruitment efforts. This renewed interest and adoption in recruitment technology has allowed companies increased opportunities to onboard top talent during such a challenging period of time. As mentioned earlier, top talent can largely contribute to company growth – something many organizations desperately need at this time. Industries including, but not limited to, healthcare, manufacturing/production, transportation, warehouse/supply chain and cleaning/janitorial services have continued to hire throughout statewide shutdowns and are ramping up recruitment efforts to bring on even more talent as states open back up. Here's a couple bottom of the funnel ways in which your company can also find and secure top talent.
Virtual Job Fairs
If you build it, they will come. While the traditional brick and mortar job fair may live on, the need to connect employers and job seekers remotely is our current reality. Enter virtual job fairs. The virtual environment grants attendee access to all vendors as with physical job fairs, only from the comfort of their home and on their own time. A virtual job fair also leverages a resume database for all attending companies to reference and all attending job seekers to post to. They are not only a great way to find employment in the current state of the world, but an effective, cost-effective solution for the future. Interested in participating in one? The Times Union is thrilled to host its first virtual job fair from May 11 to May 25. Learn more about the opportunity today.
Video Interviewing Platforms
While platforms such as Zoom or Microsoft Teams are great communication tools for internal communication and client interaction, they aren't best-used to interview a top candidate. Video interviewing platforms, such as HireVue, can give candidates a realistic look at the role they had applied for. For example, video interviewing platforms can show a mock "day in the life" for a specific role within a company. Following such a viewing, the interviewee has the opportunity to ask relevant questions about what they just watched. Video interviewing can uncover critical skills demonstrated through scenario-based questions to realistic job situations demonstrated via videos.  Such tactics can measure talent and allow organizations to make sound decisions on whether or not to hire a candidate.
Recruitment Marketing: Audience Definition, Strategies and Technology Recap
To begin any successful recruitment marketing campaign, you must first define who your ideal candidate is. This may mean some internal reflection and self-discovery for your business. However, it is critical to achieve the desired end result: a top recruit who is talented, meshes well with company culture and creates a lasting, positive impact on your organization.
Next, you must implement a marketing strategy that generates viable leads. There are a range of channels available to a company that reach target audiences in slightly different ways while delivering a common message. Are you unsure of your organization's ability to create effective marketing collateral? The Times Union Media Group can help. Our Recruitment Advertising Department is a trusted partner to organizations looking to hire top talent.
Finally, stay current with recruitment technologies and services. Not only can they save you time, money and man power, they also may give you insights on job seekers that may not be readily available through traditional interviewing processes. When the country begins to operate on all cylinders once again, you must be poised to hire top talent – and do so quickly!
####