Anyone who has worked in higher education knows how decentralized its organization can be, and how many disparate parts are part of the overall ecosystem. For example, a university might consist of several colleges (like a College of Arts & Sciences), which might drill down further into individual schools (like a journalism school), and then even further into academic departments (like English or history). And that doesn't even begin to cover nonacademic branches of the university, like alumni relations or donor outreach. So how does everyone stay on the same page, especially when it comes to marketing?
Crafting a unified strategy is essential to making sure that all these various parts of the university adhere to the same marketing, messaging, and branding standards. Consistent messaging incorporates visual as well as written components, all in all underscoring your university's unique value proposition and its approach to educating students. When facing competition from more than 7,000 other post-secondary institutions in the U.S., having a consistent messaging strategy is also critical for attracting applicants and increasing enrollment.
Whether you are part of an individual school or department looking to create your own marketing campaigns, or you are part of a university's central marketing team undertaking broader campus branding initiatives requiring input from diverse academic stakeholders, follow these guidelines for maintaining consistent messaging.
Let the mission statement be your guide
The first thing to remember is that messaging never happens in a vacuum. Academics, administrators, and education marketing professionals are tasked with working together to craft messaging, based on each group's strategic goals and areas of expertise within the university.
For stakeholders who may not have formal training in marketing, the idea of "branding" or "messaging" can be confusing or counterintuitive. Instead of leading with marketing language or jargon that might alienate these key partners, a helpful starting point is the university's mission statement. Harking back to the university's mission ensures that all subsequent messaging has a clear connection to this core part of the university's values.
Most universities will have their mission statement displayed on their website. For example, the mission statement for the College of Saint Rose is as follows:
"The College of Saint Rose community engages highly motivated undergraduate and graduate students in rigorous educational experiences. In the progressive tradition of the founding Sisters of St. Joseph of Carondelet, we welcome men and women from all religious and cultural backgrounds. In addition to developing their intellectual capacities, students have the opportunity to cultivate their creative and spiritual gifts in a diverse learning community that fosters integrity, interdependence, and mutual respect. 
The College delivers distinctive and comprehensive liberal arts and professional programs that inspire our graduates to be productive adults, critical thinkers, and motivated, caring citizens. Our engagement with the urban environment expands the setting for educational opportunities and encourages the Saint Rose community's energetic involvement and effective leadership in society."
These two paragraphs cover a variety of messaging points, from spiritual tradition, to respect for diversity, to urban roots, to education for emerging leaders and engaged citizens. While individual copy for marketing collateral should not necessarily use this exact language, understanding the university's spirit and values will help all marketing messages start off from the same place.
Develop branding guidelines to govern your visual identity
After determining a clear underlying foundation for your messaging strategy, turn your attention to how your university represents itself visually in marketing materials. Put yourself in the perspective of a prospective student who is interacting with your university in a variety of ways, across a variety of media. Now suppose that there was no cohesive visual identity. What if that admissions brochure the student received in the mail has a different color palette than the university website, or if that Facebook page for the English department is using an outdated logo with different typography? Prospective students might be turned off by these inconsistencies, and your university could suffer from diminished trust in the market.
To prevent this from happening, it helps to make your university's branding guidelines available for anyone involved in university marketing. For example, here is The New School's branding guidelines website with various style guides, downloadable logos and fonts, and contact information for special projects like creating a blog or webpage in accordance with university protocol.
Branding guidelines will probably include information about how to use logos, university colors, typography, and an editorial and style guide. Colors are particularly important for visual identities, such as "Harvard Crimson" or "Parsons Red." It's also not enough to say that a university's main colors are "purple and gold," since there are many different shades of these colors. For example, the shade of purple used by the University of Albany is different than the shade of purple used by NYU. In the examples below, the branding guidelines clearly identify the Pantone, RGB, and CMYK breakdown for each of these school colors.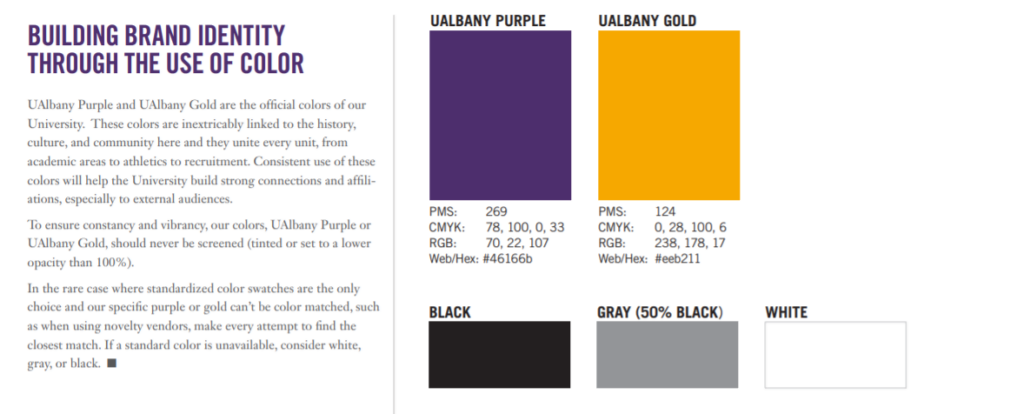 Screenshot: University of Albany
Screenshot: NYU
Keep in mind, it's not only internal departments who might use your brand guidelines. External media partnerships, such as publications or social media outlets, might also need to reference appropriate logo usage, color schemes, and university nomenclature. Therefore, it is beneficial to make these guidelines publicly available, along with a point-of-contact for any messaging or style-related questions.
Don't confuse message consistency with a one-size-fits-all approach
As previously mentioned, your university might have individual schools or departments involved in marketing. In addition to the subject matter being different across schools (like a focus on engineering rather than liberal arts), the target audience's demographics or stage of life might be different, too. Applicants, current students, parents, alumni, and faculty are a few of the audiences who will be interacting with your university's marketing, and each will need to be communicated in a nuanced way. This means that the same copy and images cannot be used across the board. For example, if your overall university messaging emphasizes service-learning, the images and copy you use for a prospective student brochure might show images of student peers working together on a community project, while an alumni newsletter might show how alumni have remained engaged in community service post-graduation.
Similarly, the format and voice of the messaging will differ by channel. Social media platforms can be more "fun," with Instagram, in particular, having a variety of stickers and hashtags that will appeal to younger audiences. Email marketing and press releases, by contrast, can be more formal since they will be seen by a broader audience, including working professionals.
Social media posts on platforms like Instagram, YouTube, and Facebook are highly visual and will involve pictures and videos. Tweets are brief and to the point, usually text-heavy. Brochures are long-form and in-depth, often incorporating paragraphs of text, images, and "quick facts." However, all of these play an important role in messaging and can communicate similar information, such as a university's emphasis on music education, individual learning paths rather than formal majors, or a project-based learning curriculum.
Offer training opportunities for anyone involved in marketing
Consistent messaging is not only about external communication with target audiences; it's also about communication within the university. Since universities are often siloed, not everyone involved in marketing might be aware of best practices and overall messaging strategies. Offer a periodic training series for new employees, as well as those who currently run marketing in your university, to keep everyone apprised of changes and larger university-wide campaigns (like an anniversary or a capital campaign).
You may also wish to have the central marketing team run monthly or quarterly meetings with all communications directors across the university to discuss what everyone is doing and see what opportunities exist for cross-promotion. Frequent check-ins will also prevent anyone from "going rogue" and sending out marketing messages that are inconsistent with the rest of the university.
Overall, establishing clear guidelines, understanding differences in audiences and channels, and maintaining strong internal communication with everyone involved in marketing will help your messaging stay on track, no matter how large your university is. Ultimately, this will also help your intended message reach the right audience and portray your university in the best light to prospective applicants.