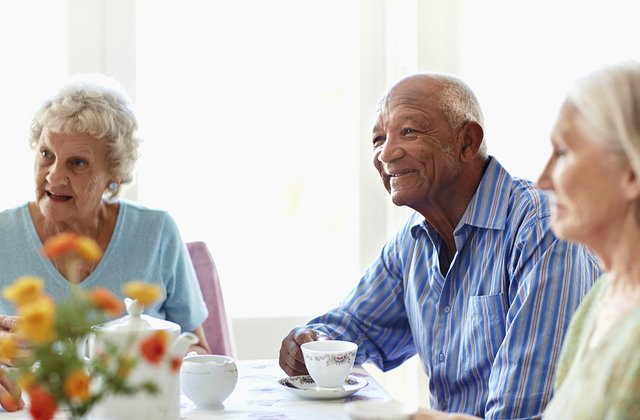 By: Emily Bezak
Are seniors using social media? The short answer is a tall yes.
Adults over 65 is the fastest-growing demographic on social media. And seniors not only sign-up to see photos of their grandkids – they're using social media on their smartphones regularly, watching videos, and finding business pages too. In fact, higher-income seniors with propensity to spend are the ones using social media more often.
In today's connected and digital world, brands must take their marketing beyond promoting their products and services. Social media provides businesses with the perfect opportunity to engage with target audiences, flex their creative and experimental muscles, and create a community among nearby businesses and within industries.
Social Media for Senior Brands: 5 Tips for Success
Tip 1: Tell your brand's story through the successes of your employees.
When it comes to senior living communities, your brand is your workforce. So, use that treasure chest of stories to your advantage and feature your employees on social media. Prospective and current clients and their families love to put a face to their care provider, and your employees will love the recognition. Many companies in all types of industries use this tactic to help grow their social media audiences with these high-engagement posts and keep their brand name top-of-mind as your prospective customers move – and scroll – through their day.
Tip 2: Respond to, escalate, and share patient reviews and comments.
More than four in five of patients use online reviews to evaluate physicians during their decision-making process. And patient reviews are so important, that almost half of patients would select an out-of-network doctor over a doctor in their network with lower patient ratings. Facebook business pages are built to collect reviews easily, and those ratings help brands' rank higher on search engines (hello, SEO!) since reviews can count toward your page update frequency. So be sure to encourage your patients to provide reviews for your facility online and through social media. This gives you access to patient testimonials you can use in future marketing efforts.* Of course, when you ask for feedback, you should continue the conversation by thanking reviewers, escalating complaints or issues, and responding to questions or confusion around a service or product.
*Be sure to reach out privately for appropriate permissions and approvals to comply with HIPAA privacy laws.
Tip 3: Make events and facility tours more fun and interactive with multiple social media tools and post formats.
Nursing home marketing plans have always included a focus on event marketing. From holiday celebrations to facility tours or community mixers, it's important to derive as much ROI from these efforts as possible. At minimum, you should share your event on social media to increase awareness, encourage RSVPs, and recap your event afterward to keep the momentum going.
Here are some other innovative ideas for promoting your senior living facility events on social media:
Utilize live video streaming or stories features on Facebook and Instagram to create a buzz online about your brand for those that couldn't attend or have family members in attendance so they can stay tuned.
Post live from an event with a wide reach or large following, like an industry conference or local community event. Tweet quotes, share photos, and use the event's hashtag to piggyback off the event's success when in attendance.
Create a contest with fellow vendors at a community event to increase your followers and awareness of your brand to locals.
Tip 4: Reach out to your community.
In marketing, it's easy to forget that communicating with your audience is a two-way street. From responding quickly to messages on Facebook to escalating poor reviews, social media serves as your company's Suggestion Box without the privacy of a lid. Balancing your social media strategy with promoting and engaging your audience ensures your followers will value the content you provide, and ultimately translate into direct or indirect revenue through new residents, referrals, or word-of-mouth in the community you serve.
Here are some ways to build an online community for your brand using social media:
Like or follow fellow businesses near or around your community and share their content or events, if it applies to your target audience. For example, if there's a senior event at the local sports venue, take advantage of that exposure and share, retweet, like, and comment on event promotions. They just might return the favor for your next promotion!
Reply to comments, messages, and reviews. Across all platforms – both negative and positive – have a plan in place to manage your online reputation in a way that makes the most sense for that social media channel. For example: When you receive a negative review on your Facebook page, be sure to respond with a general message publicly and settle the problem quickly and privately.
Curate content from reputable sources for timely information, trends, and information within your industry. For an assisted living center, this could include news stories about children in caregiving roles, financial planning for retirement, and enrolling in Medicare. As part of your social media strategy, you should create a library of allowed sources for related content. Follow their social media pages to stay on top of the latest news and updates.
Social Media for Assisted Living Facilities: Final Thoughts
Marketing a senior living community can be challenging – from privacy concerns to the sheer number of stakeholders in the complex process of providing and receiving senior residential care. Social media can provide a platform for talking directly to your audience, telling the compelling stories of your work, and having a bit of fun.
These tips for marketing your healthcare brand should provide your team a foundation to build a thorough social media strategy for your senior brand. However, sometimes it pays to talk to an expert to guide your team to help you embark on new territory with your digital marketing. Or, maybe you need an extra pair of marketing hands? A marketing agency that specializes in assisted living marketing may be exactly what you need to take your brand to the next level.
Summary:
Seniors are on social media, and their usage is a large portion of social media growth in recent years. As a senior living provider, you should be on social media to ensure you're engaging with your audience where they spend their time.
Defining a social media strategy should be at the top of your list for your overall marketing plan. Be sure to not only include promotion of your services and products, but also foster community engagement through conversations, reviews or comments, and creating relationships with other businesses in your area on social media. Often times the most engaging content is the least sales-focused.
Social media trends and platform algorithms are always changing. Ensure your team is equipped with updated training and resources to make the most of your social media marketing program, or talk to an expert.