Recently, Target announced that it is on pace for an all-time record close. Not too shabby for a year that has seen its fair share of trials and tribulations. While we acknowledge that yes, Target is by all accounts a massive corporation, the company's strategy has been one that could be easily followed by any small business.
Simply put, Target began holiday marketing efforts early, expanded the ability and ease in which to pick up purchased products and the pièce de resistance? Target has aligned the dates of its largest holiday shopping days (Target Deal Days) with the event synonymous with online shopping: Amazon Prime Day.
The pandemic has certainly shifted the holiday retail calendar, but has not erased the shopping season. In addition, it has certainly not erased the enthusiasm and the joy that the months ahead bring to so many people and families. Now, more than ever, consumers look forward to events that provide a sense of normalcy and plain old fun.
Already, the creativity seen within communities for Halloween is astounding. Cities and businesses alike are putting together drive-through haunted houses, elaborate funnels are being created within residential neighborhoods for those who will still be trick-or-treating and there is already talk of scheduled, virtual meetings with Santa Claus (which, we have to admit, sounds a lot better than waiting in line!)
So, while the state of affairs remains a bit strange, Target has demonstrated that creativity and foresight will not go unnoticed and unrewarded. We've stressed it before, but we'll stress it again – now is the time to kickstart your organization's holiday marketing campaign. Below, we've outlined a few ways in which to increase your company's exposure now, in order to remain top-of-mind throughout the holiday shopping season.
Quality Over Quantity
Bigger isn't always better, and that is often true when it comes to marketing campaigns. With marketing budgets being kept a bit closer to the chest this year, organizations want to ensure that where they are placing their ads and how they are spending their money provides the greatest return on investment.
We're going to use Target again here as an example. Walmart and Target are fierce big box competitors and the pressure's on to engage their audiences. However, the two organizations have taken very different approaches, especially on social media. Walmart has been pushing out an average of 281 posts per day on Twitter, whereas Target tweets about 7 times per day. And according to Adly, Target's, shall we say, less annoying strategy, is paying off with a more engaged audience.
Consumers already have short attention spans. A full-on marketing assault that focuses on quantity rather than quality causes mass tune-outs.
While a targeted marketing approach that reaches an ideal target audience is key, creating content that is captivating and highly visible is another vital component. Conveying shopping aspects such as convenience, flexibility, efficiency and safety are invaluable in the coming months, but also critical for organizations to resonate in the minds of consumers far into the future. Retail Info Systems recently referred to such factors as a "digital dialogue" that not only communicates to consumers the information they need to purchase a product, but also remembers who they are, making it easy to replenish or complement a purchase.
The Times Union offers multiple ways in which to connect and fully engage with target consumers in your organization's backyard.
Timesunion.com Offerings
Timesunion.com delivers an unparalleled advertising performance through a world-class content experience and an engaged audience across Hearst Newspaper markets.
Our simplified layout makes readers come back, and your ads standout. Readers return to our news website in order to explore and immerse themselves in local stories. Furthermore, local stories on the topics that relate to your business creates endless opportunities for your advertising to resonate with our audience. Not only do our readers benefit, but so does your campaign.
Timesunion.com Ad Placements
Superhero Ad
Looking to combine traditional display ads with video ad capabilities? Look no further than our superhero ads. Coming in a variety of image-rich formats, your organization can choose the most engaging way to reach your target audience. The superhero ad can run as a video, as a static image and as a slideshow.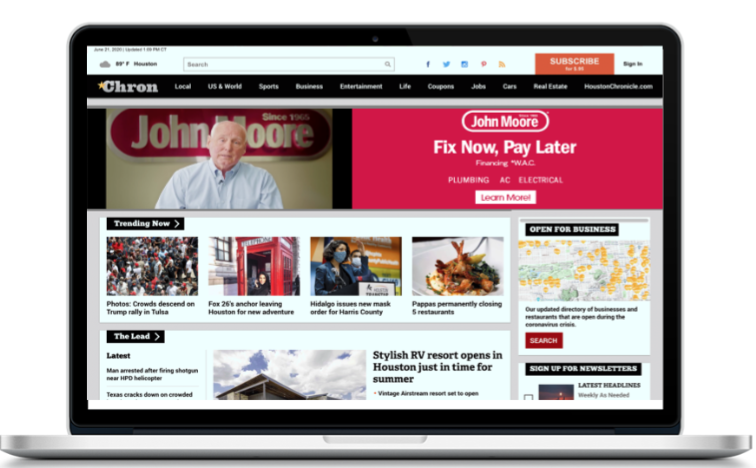 Cinema Ad
Dinner and a show? Kind of! When consumers are served ads constantly, an ad that is user-initiated and fully expands to earn all of an individual's attention is invaluable. Timesunion.com's cinema ad does just that. This video ad targets those most interested in your product or service and creates a unique user experience. Want more? The mini cinema ad engages with those on mobile devices – an important distinction as 90% of all consumers watch video on their mobile devices!
Countdown Clock
Have a fantastic sale on the horizon? We can help spread the word! Our cowntdown clock ad placement increases brand awareness and also instills a sense of urgency and excitement for major events ahead.
Take a page out of Target's book. As they have aligned their largest shopping days with Amazon's largest shopping days, the likelihood for Target to connect with residual Amazon customers is extremely high. Your organization can do the same! We know that on October 13 and 14, online shopping rates are going to be very high. As such, online usage in general is going to spike. Get your brand in front of consumers who are likely to make a purchase, and at the very least, browsing for a future purchase.
In Conclusion
Businesses that prepare now for the holiday shopping season by partnering with local media experts will reap greater benefits in the months (and years!) ahead. We encourage you to contact us today to learn just how effective our products are in earning your organization additional market share and expanding your brand's reach.
####