Last week, we talked about ways to market your organization when business is booming. One sector that has seen success throughout the pandemic is the automotive vertical. While many dealerships underwent numerous changes last Spring in order to better connect with and better serve customers, those that reinvented their sales approach and revamped their digital footprint saw great success.
While light vehicle sales fell sharply in March and April across the United States, the comeback the industry saw in May and beyond was nothing short of impressive.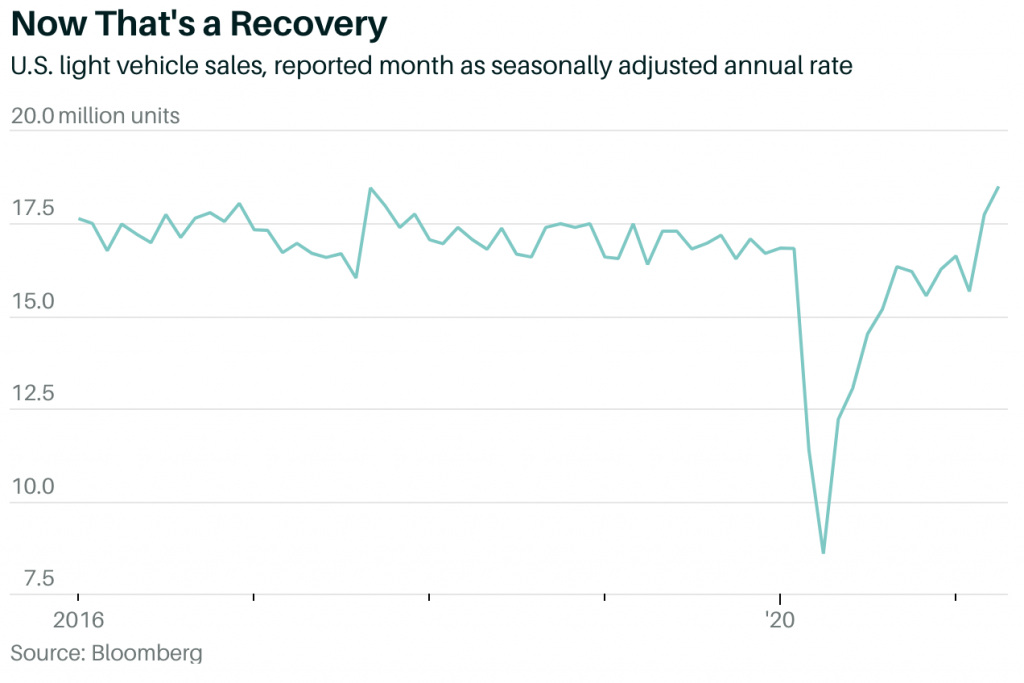 According to Bloomberg, demand for new vehicles remains strong, despite a global automotive semiconductor shortage that is limiting the supply of new vehicles to dealerships. While this has driven up the price for new vehicles, the cost factor doesn't appear to be slowing shoppers down.
In addition, there is evidence to suggest that lower levels of inventory will become a more permanent fixture for many auto dealers. During pre-pandemic times, auto dealers typically operated with about 65 days of inventory. While the current level of inventory (an average of 34 vehicles) is too low, the 65 days of inventory figure will most likely decrease to between 50 and 55 days. However, with the current state of affairs, it will still take some time to increase to even this "low" level of inventory.
When inventory does become more readily available, the dealers within the automotive industry will once again need to strategize on how to best reach their target consumers to move cars off their lots efficiently.
Reinventing Business as Usual
As foot traffic decreased to dealerships during the pandemic, digital traffic blossomed. Dealers advertised promotions which spurred consumer interest, leading prospects to shop online for vehicles and purchase their cars in a purely virtual manner. While this shopping method was preferred a year ago, it is no longer necessary and generally not the ideal way in which to purchase an expensive asset.
However, auto dealers are very much aware of the fact that gone are the days of people casually wandering into a dealership to "browse" for a vehicle. Today, consumers have access to an enormous amount of vehicle information at their fingertips via digital channels, traditional channels and social channels. As a result, they know a great deal about the makes and models they are considering buying. Consumers arrive at the dealership informed and ready to buy should their expectations of the vehicle and purchase process be met.
In order to effectively engage with this informed consumer, auto dealers must invest in a multitude of touchpoints to create a brand experience that resonates with car shoppers.
As we find ourselves in an experience economy, an economy in which perceived value is wholly embodied in an experience, auto dealers must again adapt to the post-pandemic era in which a consumer's experiences connects them or disconnects them with a good or service.
The Reemergence of Auto Shows
Prior to the pandemic, Car and Driver highlighted the fact that attendance at major auto shows throughout the year by both premiere car brands and consumers had been slipping. While there were a handful of factors tossed around to explain this trend, one point that stood out was a lack of emotional relevancy. Why should consumers attend an auto show? What's in it for them? The answer: Human and material connection.
As people have been hunkered down for the past year, they are itching to get out into the world and spend on things that bring them joy. Consumers have a new-found desire to connect and reconnect with their passions that have fallen by the wayside these past 15 months. Within the auto realm, auto shows are a way in which consumers can experience the sleekness and creature comforts of a luxury vehicle or feel as though they are on the front lines of the electric vehicle revolution.
In addition, an auto show that is well-publicized affords an auto dealer the ability to create a cohesive brand experience. Engaging with consumers via traditional and digital mediums allows for dealerships to begin to create a narrative and a brand image even before the in-person event. Consumers will come to the event informed on the vehicle (or vehicles!) they are most interested in and participating brands can create an experience that engages a consumers' passion.
In order to support our client partners and an industry that brings great economic value to our local communities, we are thrilled to announce our ongoing partnership with the Eastern New York Coalition of Automotive Retailers, Inc. (ENYCAR) to bring the Albany Auto Show back to the Capital Region this fall.
The Albany Auto Show
The Albany Auto Show is set to return to the Times Union Center from 3 p.m. – 8 p.m. on Friday, November 5, from 10 a.m. – 7 p.m. on Saturday, November 6, and from 10 a.m. – 5 p.m. on Sunday, November 7, 2021.
Presented by the Eastern New York Coalition of Automotive Retailers, Inc. (ENYCAR), the three-day event will feature automotive brands and models (cars, trucks, minivans, sport-utilities, luxury, utility vehicles) of all shapes and sizes. Explore the latest features, options and styling from more than 30 different manufacturers and visit exhibitor booths featuring auto-related products and services. Specialty and concept cars will be announced at a later date.
Tickets will be available the day of event at the Times Union Center Box Office, by phone at 1-800-745-3000, online at www.timesunioncenter-albany.com and ticketmaster.com, and all Ticketmaster outlets (where a service fee may be charged). Cost of admission is $10 for adults. Children under 12 are free when accompanied by an adult.
Learn more about the 2021 Albany Auto Show presented by ENYCAR here. For more information on the event and sponsorship opportunities, please contact Jennifer Rodgers here.
####