The time has come to talk of many (recruitment) things. First and foremost, it is time to speak about the talent and the workforce needed to keep moving your business forward post COVID-19. If you have been hesitant to begin recruiting due to fear of the unknown or concern over changing day-to-day operations of your company, tackling these worries head on by attracting a talented workforce can bring new insights into the confines of your business.
As the unemployment rate peaked at roughly 14.7% in April of this year, savvy recruiters and HR Departments saw this as a major opportunity. Companies who quickly and efficiently identified workforce weaknesses began ramping up recruitment efforts at this time to attract newly available stand-out talent. Through strategic marketing and branding efforts, engaging ideal candidates in a high-stakes business landscape has become more effective than ever.
A Recruiter's Toolbox
COVID-19 has certainly accelerated many changes within organizations. New technology, new client needs, new products to meet these needs and new workflows are just a few changes businesses have had to work through in the last five months. Looking ahead to the next five months, strategic goals have certainly shifted as well. As consumer habits have changed, so too must organizational strategy. Possessing an elite team of employees can provide an organization with new perspectives to enact positive change is essential. With that, comes taking a thorough look at a company's workforce and talent to determine where gaps lie within departmental skill sets.
As there are unique tools within a Carpenter's toolbox, there are unique jobs with unique skillsets within a single company. Recruiting workers for different positions must be approached strategically. To utilize different (marketing and branding) approaches, recruiters must search within their toolbox to attract qualified candidates efficiently – a necessity in the post COVID-19 hiring frenzy. We've highlighted a few such tools below to effectively target, engage and ultimately onboard ideal candidates.
Monster Premium Job Ads
To earn the top talent, companies will have to engage people sooner, more thoughtfully and place a higher priority on aspects employees value most in a job.
For recruitment marketing purposes, social media campaigns are a way in which companies can get creative to reach the best talent. Monster Premium Job Ads allow organizations to get in front of the right people faster with automated, mobile-optimized, in-feed social job ads. Within these ads, employers can post once and reach talent wherever they are — on Monster, on social media sites, and across 500+ job and news sites. By combining rich professional and social profile data, we are able to deliver your jobs to the right people, with the right skills — even if they aren't actively looking for a job.
With every job your company posts, data will automatically pull from top sourcing sites to be used to target both active and passive candidates on Facebook, Instagram and Twitter who have the skill sets your organization is looking for. Once matched, your job ad is automatically displayed in the qualified person's social feed where, if interested, they can directly view and apply for the job.
Social media has proven itself useful in connecting recruiters directly with both active and passive job seekers by engaging with them through shared networks, skills or passions. In addition, you may find that your messaging and content on social media does not have to change drastically to resonate with different demographics, making the marketing medium an effective recruitment marketing platform.
Monster Super Search
Even prior to the start of COVID-19, online talent assessments, digital interviewing and the integration of new hires into an organization via an online platform was becoming a more widely accepted manner in which to conduct recruitment efforts. Such a high-performing, intuitive technological approach can be seen within Monster Super Search. The next generation, premium recruiting platform enables your organization to significantly improve the way you search for talent while reducing costs. As economic conditions evolve, minimizing recruiting costs is crucial for any organization, large or small.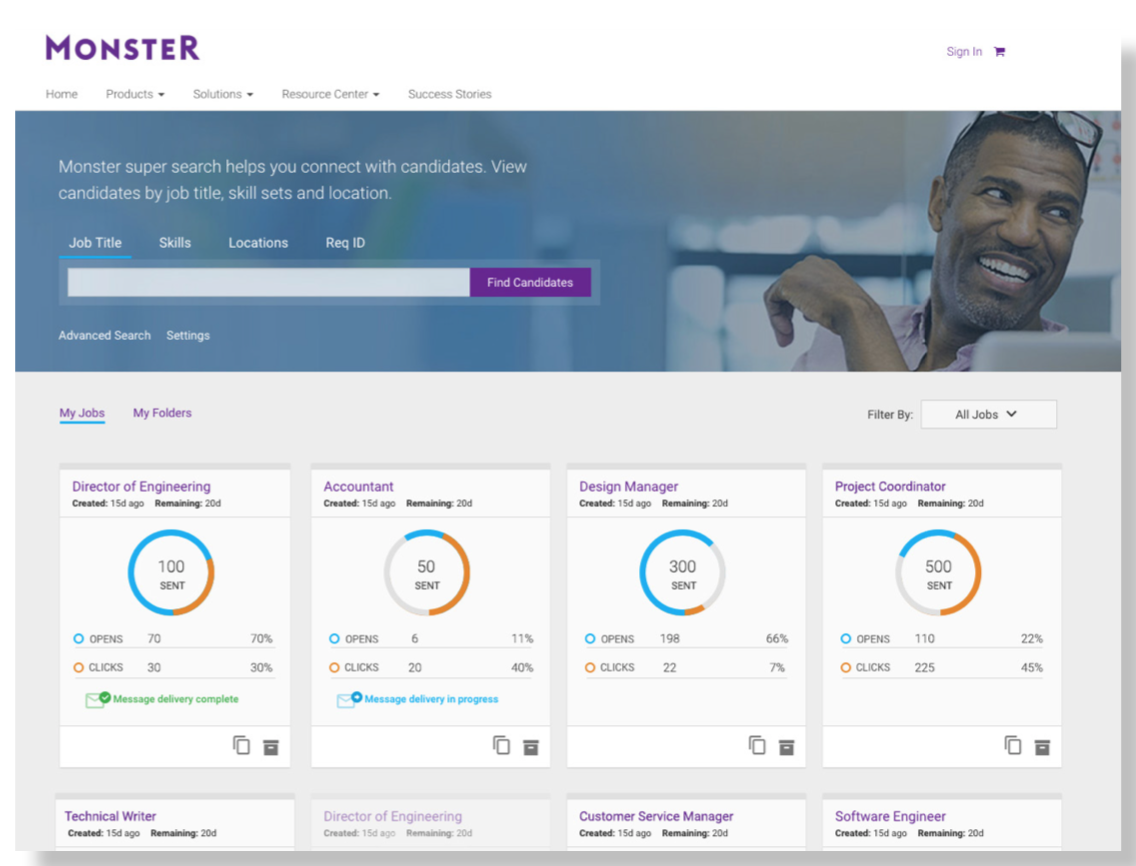 Super Search allows companies to find and rank candidates and efficiently connect and engage with those they are interested in. Furthermore, by setting up automated messages to cover all available candidates who match your criteria and maximize response, you'll be able to stay on top of your hiring demands.
The Total Package
Not only do job functions differ, but the way in which job seekers look for open positions vary as well. As such, it is vital to measure the success of new recruitment marketing practices. According to a survey conducted by Beamery, only 40% of companies track the source of hire and 60% track time to hire. Candidates conduct their own extensive research on a company prior to applying for a job or accepting a job offer. This begs the question – why don't organizations do the same when it comes to how the candidate made it to their front door in the first place?
To fully influence a candidate's opinion of an organization, companies must understand the journey of the job seeker and take a closer look at their branding and marketing efforts. Through a multi-channel marketing and branding approach, your organization will not only attract quality candidates, but also create a company culture that aligns with overarching business goals.
Creating a warm, welcoming brand allows doors to be opened. Doors to new employees, but also doors to new business ventures. Investing in a comprehensive, multi-channel recruitment strategy can have lasting positive effects on your organization's bottom line. Get in touch with us today to learn how our Recruitment Advertising team can help!
####