When building out an omni-channel marketing campaign, one of the most crucial pieces of the puzzle to keep customer communication streamlined and to maintain an organized workflow, is to build a website for your business. And not only that, but a website that is responsive, visually appealing and SEO friendly.
A website conveys brand legitimacy and establishes trust with a potential customer by allowing them to cross-reference your business between media channels where and when possible. Frequently an underutilized tool in an organization's marketing arsenal, a website is typically one of the first glimpses into a business a customer gets.
Within this blog, we will not only discuss a few vital elements of a quality website, we'll also provide a handful of pointers on how to maintain the website you have worked hard to build. As is the case with many aspects of running a business, things change quickly. Crafting a website management plan to keep your organization's virtual office front running at peak condition is vital to continue earning leads, growing your business and keeping current clients satisfied.
Make or Break Elements of a Valuable Website
Responsiveness
By definition, a responsive website describes a web design that allows websites and pages to display on all devices and screen sizes by automatically adapting to the screen. Your website should be user friendly and easy to navigate on any desktop, laptop, tablet or smartphone.
Studies show that mobile users are five times more likely to leave your site if it is not optimized for their device. Furthermore, 88% of online consumers are less likely to return to a site after a bad experience. You want your company to be found online, but you also want consumers returning to your site. Make it an easy decision for them with a responsive site.
Three Letters – SEO
SEO stands for Search Engine Optimization. While SEO is a widely talked about marketing tactic, there is often a great deal of confusion surrounding this principle. By definition, SEO is the practice of increasing the quantity and quality of traffic to your website through organic search results. SEO can improve visibility, website traffic and lead potential.
When a consumer searches on Google, Yahoo or Bing for the goods or services your company offers, your goal is to have your website appear as the first result on the page. Research shows that the first page of a search result incurs 95% of a user's attention, whereas the second page earns roughly 5%. Still not convinced? Further sleuthing finds that the first site listed from a search results earns about 33% of overall search traffic, while the seventh site earns a mere 3.5%.
Make it Stylish!
A professional design further establishes brand credibility and can improve sales. It takes about 0.05 seconds for a user to formulate an opinion about your website. One way in which to make sure these judgements land in your favor is to maintain or improve your website's design. An astounding 38% of users claim they will stop engaging with a website if the content or layout is unattractive. It is relatively easy to create a visually appealing website from scratch or from a pre-existing template. Below are a couple of examples of websites created in-house that are engaging, visually appealing, and above all, effective.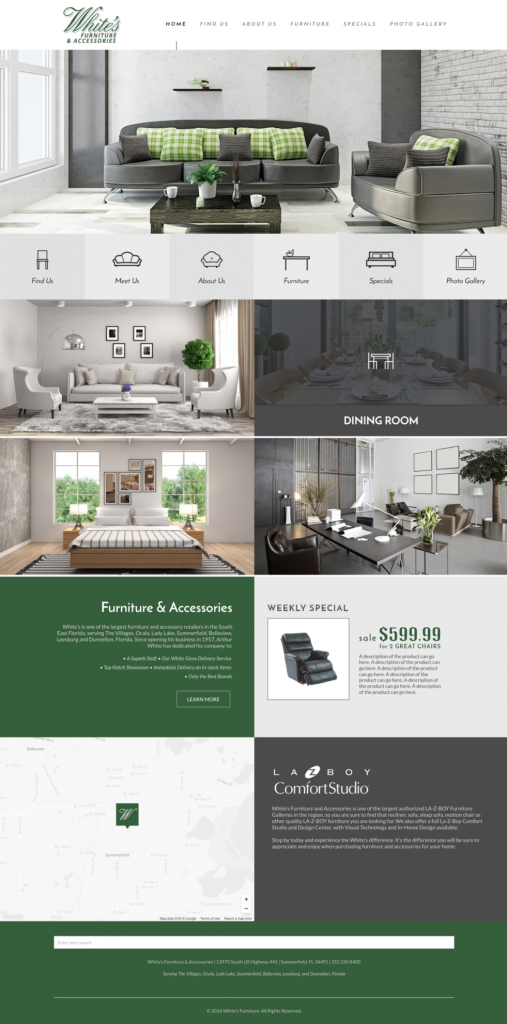 They are professional, stylish and modern. Interested in something similar for your company's new website? We've got you covered!
Website Maintenance, Defined
Congratulations! You've invested the time and money to create an engaging website with not only great user experience elements but also great lead generation elements. You have forms, you have pop-ups for calls to action, you have great content – what more could you possibly need to do at this point?
Create a website maintenance plan.
By definition, a website maintenance plan is an ongoing plan to maintain and support your website. While this concept seems simple enough, there are a number of website elements that must be considered. Maintaining a website can be a bit of a tedious task, but fortunately for you and your business, we can help with that! But before we get into that, let's take a look at 6 elements that are "must-do's" to keep your site performing seamlessly.
How Exactly Do I Maintain My Website?
While there are many ways to invest your time and energy into a website maintenance plan, the following 6 are some of the most common and some of the most necessary. Let's jump right in!
1. Analyze Website Performance
As we've mentioned numerous times already, you've invested in a website and now you want to know how well it's working! One of the simplest ways to do this is through regular analysis of website reporting. While there are many tools available to perform such a task, Google Analytics is one of the best, easiest to use tools out there. You can monitor and analyze a vast amount of data including site traffic, the keywords that are bringing the most visitors to your site and so much more.
While not a free tool like Google Analytics, Crazy Egg is another analytics tool that uses heat maps to track visitors and specifically determine what they are clicking on when they arrive at your site. This can be of great value as it allows businesses to see exactly what users find of import and of greatest interest on your site. This in turn can help you to improve the design of your site to enhance user experience.
2. Check Website Links
Sometimes, links break. It happens to the best of us. We've all come across the dreaded "404 Error" page. These lost pages hurt user experience and frequently lead to increased bounce rates – aka, people leaving your website.
Fortunately, there are multiple tools available to help you check for broken links. SEMrush is one such platform. Their site crawler provides you with a full report on your website's overall health and warns you when there is a problem.
Screaming Frog is another tool that gathers data from your site using a site crawler feature and finds broken links (404s) and server errors. Again, simply enter your website's URL, and instantly identify problem areas. Another Screaming Frog benefit? Their SEO Spider! Choose between their free or paid version and improve your site's SEO through the audit of site data, in turn allowing you to make more informed decisions about necessary site improvements.
3. Test Website Speed
Ever been on a site where it seems like you're moving at a snail's pace from page to page? Pretty frustrating, right? Don't let that be your website!
A website that loads quickly provides consumers with a much better user experience. They can flip through your site effortlessly, decreasing your website's bounce rates (which we might add, is very good for business!)
You can run a page speed test using Google PageSpeed Insights or Pingdom Website Speed Test. For both platforms, simply drop in a web page URL, click "analyze" or "start test" (platform dependent) and voila, you'll be presented with not only a result, but a few suggestions to improve page performance where needed.
4. Update Content
Developing fresh content can be an arduous task. However, we are here to tell you that it does not need to be! Updating content regularly is certainly necessary, but what constitutes as an "update" is a bit flexible.
For example, previously written blog posts can be given a facelift with some new industry data or a slightly different perspective. On a similar note, graphics can be swapped out throughout the site to freshen up the look and promotions can be regularly added to show website visitors that the site is active – plus it will help to increase user engagement!
5. Keep Making Website Improvements!
A website is never truly a "finished product." It must be thought of as a fluid entity that changes with the times. As new user experience elements come about, you must consider their value and determine if they are a good fit for your site and your customers.
For example, the creation of an e-commerce storefront became a crucial new business element for many organizations during the pandemic. In addition to attracting more potential shoppers or clients, an e-commerce site assisted in strengthening a brand's identity and credibility, allowing them to showcase goods and services.
6. Emergency Planning
Website emergencies happen. If something goes wrong (a server goes down, for example), having a plan to remedy the problem quickly is critical. A lack of an emergency plan can not only cause a headache, it can be financially costly – especially if your site houses a lucrative e-commerce platform.
Having a team on standby that knows your site and is able to react quickly and efficiently is very important. Hiring a website maintenance service or team can give you peace of mind that everything is cared for on your site. In addition, some benefits of a having a website maintenance team on retainer include:
Easier budgeting with a regular monthly fee.
A team on hand that knows your website well will speed handling any emergencies.
Priority service as a regular monthly client.
Website work will be results-driven instead of task-driven.
The team will have experience with your company and brand to help you get better results.
Final Thoughts
 
With a service team behind you to ensure proper website maintenance and a marketing team to improve website performance, your decision to launch a website is one that will pay dividends for years to come.
A website that is properly managed will continue to bring in new leads for your organization for as long as you so desire.
####